About Us
---
Committed To Customer Service, Support And Satisfaction.
Whether you need a complete comfort system, routine maintenance, emergency repair, or energy saving tips, McCullions is the company you can count on for all your family's home comfort needs.
Customer Satisfaction Guarantee
Professionally Trained Staff
Your Carrier Dealer
McCullions has proven time and again that we truly care about customers like you. We are proud to be a woman-owned business. You've chosen the finest heating and cooling system available; don't you deserve the finest to install and service it? Take comfort in the fact as a Carrier dealer we have been thoroughly evaluated in the following areas:
Overall Performance
Experience and Dedication
Installation Quality
Technical Training
Business Practices
Our Mission – Comfort & Safety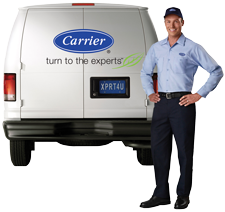 Our mission is to achieve a safe as well as a comfortable home for all our customers. The average person takes their heating system for granted, not realizing that it must be serviced on a regular basis. One of our goals is to educate the consumer. We advise them to have the heating unit and water heater serviced and maintained at least once a year not only to prolong the life of the equipment, but; to protect their families. A poorly maintained system or faulty venting can lead to severe illness. We also advise them to have their air conditioning systems maintained to achieve optimum efficiency (A very simple tip is to change the air filters at least every three months).
Please fill out our form or call today for a free estimate and cost savings analysis for your home.